Second Wave Fears As China Reports More New Cases Of Coronavirus
The shock resurgence in domestic infections has rattled China, where the disease emerged late last year but had largely been tamed through severe restrictions on movement that were later emulated across the globe.
It also gives a bleak insight into the difficulties the world will face in conquering COVID-19 — even as Europe prepares for the summer holiday season after an encouraging drop in contagion, with some countries set to welcome visitors from elsewhere on the continent from Monday.
Of the 57 new cases logged by Chinese authorities, 36 were domestic infections in the capital, where a large wholesale food market at the centre of the outbreak has been closed and nearby housing estates put under lockdown.
"The meat sellers have had to close. This disease is really scary," said a fruit and vegetable trader surnamed Sun at another central Beijing market, adding there were fewer customers than normal.
Others were more sanguine. "As long as you wear a face mask, it should be fine… Anyway, I have to buy food, right?" said shopper Song Weiming.
At least 429,000 people worldwide have died from the respiratory illness, nearly halfway through a year in which countless lives have been upended as the pandemic ravages the global economy.
The total number of confirmed cases has doubled to 7.7 million in slightly over a month and the disease is now spreading most rapidly in Latin America, where it is threatening healthcare systems and sparking political turmoil.
Brazil has the second-highest number of virus deaths after the United States, surpassing Britain's toll, and the Chilean health minister resigned on Saturday amid a furore over the country's true number of fatalities.
There is still no treatment for COVID-19, but pharmaceutical group AstraZeneca said it has agreed to supply an alliance of European countries with up to 400 million doses of a possible vaccine.
German government sources told AFP a vaccine could be developed by the end of the year.
– Europe reopens –
Many European nations are further lifting painful lockdowns that have saved lives and forced caseloads down, but have also withered economies and caused misery for millions.
The EU has recommended that member states fully reopen their frontiers with each other on June 15, but the border reopenings have been far from harmoniously coordinated.
Some like Poland have done so already, with people from other European Union countries allowed to visit, and Germany said it would end land border checks on Monday.
Greek Prime Minister Kyriakos Mitsotakis travelled to picturesque Santorini island on Saturday to open his country's tourism season.
"Greece is ready to welcome tourists this summer by putting safety and health as our number one priority," he said in English in front of a spectacular sunset.
France has said it will gradually reopen to countries outside the borderless Schengen zone from July. French President Emmanuel Macron is set to give a speech on Sunday, in which he will detail plans to further relax virus restrictions.
In another joyful return to semi-normality, football superstar Lionel Messi took to the pitch again in Spain as Barcelona resumed their La Liga title challenge and thumped Real Mallorca 4-0 in an empty stadium.
Live sport also returned on Saturday to New Zealand, which has gone 22 days without new coronavirus cases, as 20,000 rugby fans watched the Otago Highlanders edge the Waikato Chiefs.
But even in the much-awaited global sporting revival, there are wobbles — Australian rugby league officials postponed a top-level game on Sunday hours before kick-off due to a coronavirus scare.
The World Health Organization said this week the pandemic is accelerating in Africa, and Botswana's capital Gaborone was locked down Saturday after new cases were detected.
And in the US, which has seen the most COVID-19 deaths with over 115,000, more than a dozen states — including populous Texas and Florida — reported their highest-ever daily case totals in recent days.
The rise comes as huge anti-racism protests rage across America and the world, with many demonstrators wearing masks to protect against the spread of the virus.
Will Astronauts Have Private Time to Themselves During the Three-Month Trip to The Space Station?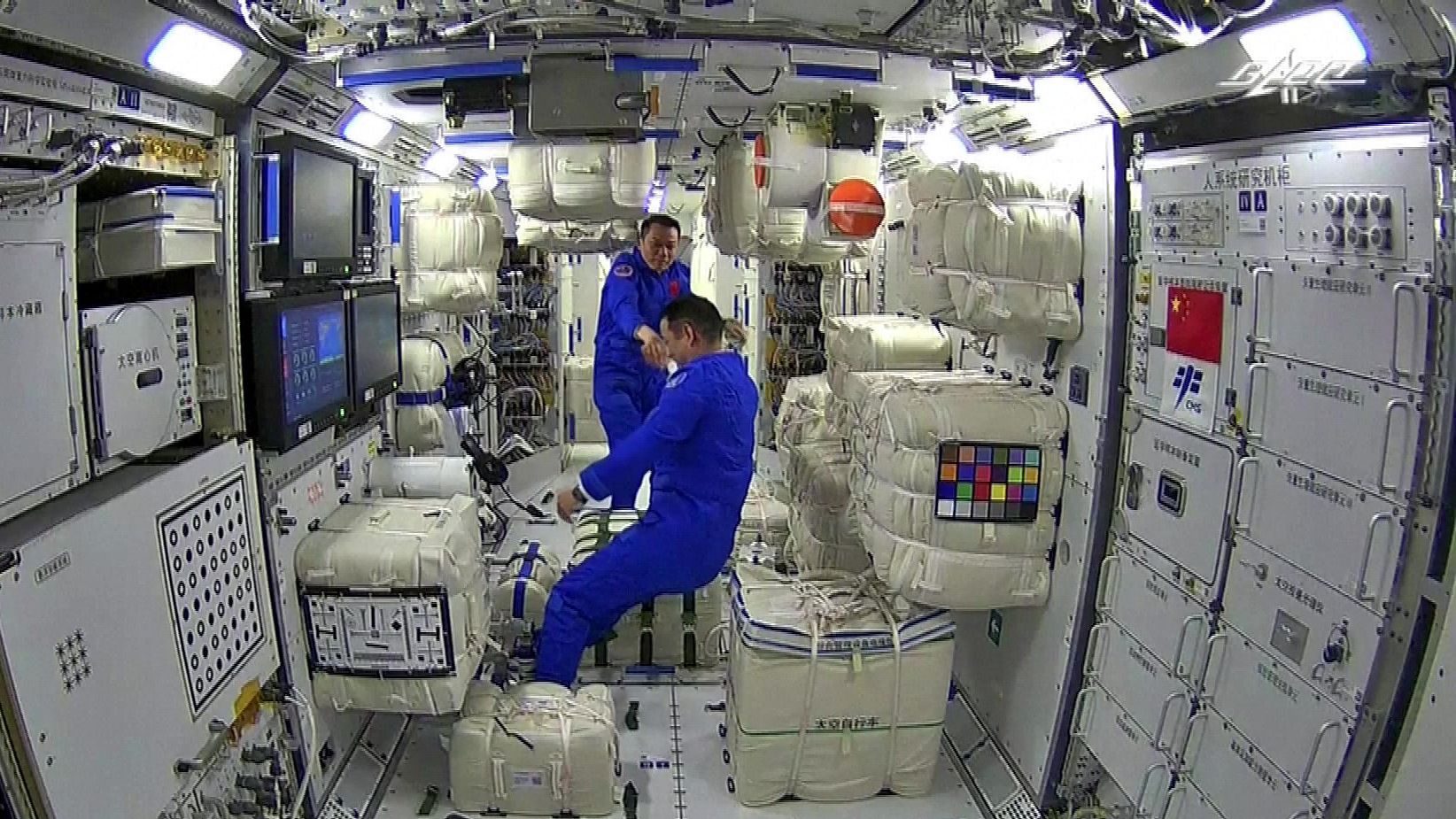 Three Chinese astronauts logged into space on June 17 to fly to the Chinese space station. This is China's first manned space mission in nearly five years, and the taikonauts will spend three months in space to help build the station and conduct experiments. Their flight has opened up endless reveries for many Chinese.
Father's Day: Three 'Treasures' Xi Jinping Gets From his Father
Falling on the third Sunday of June, Father's Day will be celebrated on June 20 this year.
Fathers always have a great influence on their children – the same applies to Chinese President Xi Jinping.
There are at least three characteristics that Xi has inherited from his father Xi Zhongxun (1913-2002), a leader of the Communist Party of China (CPC) and the state.
File photo of Xi Jinping (L) with his father Xi Zhongxun. /CMG
People-oriented philosophy
Many Chinese leaders started their careers from the grassroots, going through the difficulties ordinary people face and understanding the people's needs, which lays a solid foundation for their practical and people-oriented approach in formulating national policies.
The people-oriented philosophy is one of the most important treasures Xi Jinping got from his father, who believed that officials and the masses are equal and they must always live among the people.
The father once told his boy: "No matter what your job title is, serve the people diligently, consider the interests of the people with all your heart, maintain close ties with the people, and always stay approachable to the people."
Adhering to the path of "serving the people," Xi Jinping visited China's 14 contiguous areas of extreme poverty after becoming general secretary of the Communist Party of China (CPC) Central Committee in November 2012. He went to villages and households, and told communities that he is just "a servant of the people."
Chinese President Xi Jinping talks to people while visiting Fudao, a 19-km-long pedestrian walkway in Fuzhou, southeast China's Fujian Province, March 24, 2021. /Xinhua
During his domestic inspection tours, Xi Jinping always chatted with the locals, cared about their daily life and stressed the responsibilities of serving the people with other officials.
The Party has won the people's wholehearted support because it has always served the people with heart and soul and striven for the well-being of all ethnic groups, Xi has said on many occasions.
Down-to-earth approach
Inheriting his father's down-to-earth approach, Xi Jinping visited all the villages in Zhengding, Hebei Province during his tenure of county Party chief in the 1980s. Then in Ningde, Fujian, he visited nine counties within the first three months as secretary of the CPC Ningde Prefectural Committee, and traveled to most townships later on.
Xi Zhongxun (C) visits rural Huiyang, south China's Guangdong Province, August 1978. /CMG
After he was transferred to east China's Zhejiang Province in 2002, he visited all 90 counties in over a year. During his brief tenure in Shanghai in 2007, he visited all its 19 districts and counties in seven months.
The formulation of the country's 14th Five-Year Plan (2021-2025) for Economic and Social Development and future targets for 2035 also reflected Xi Jinping's adherence to investigation and research.
By convening and presiding over a number of symposiums, he listened to opinions and advices on the country's economic and social development in the plan period from all walks of life.
Living a simple life
The Xi's has a tradition of being strict with children and living a simple life. Xi Zhongxun believed if a senior Party official wanted to discipline others, he should begin first with himself and his family.
Xi Jinping and his younger brother used to wear clothes and shoes from their elder sisters. After Xi Jinping became a leading official, his mother called a family meeting to ban the siblings from engaging in business where Xi Jinping worked.
Xi Jinping has carried on his family's tradition and been strict with his family members. Wherever he worked, he told them not to do business there or do anything in his name, or else he "would be ruthless." Whether in Fujian, Zhejiang or Shanghai, he pledged at official meetings that no one was allowed to seek personal benefit using his name and welcomed supervision in this regard.
Peng Liyuan Calls for Global Efforts in AIDS and TB Prevention and Treatment
Peng Liyuan, wife of Chinese President Xi Jinping, called on people from all walks of life in all countries to join hands and take action to strengthen the prevention and treatment of AIDS and tuberculosis (TB), in order to benefit all mankind and build a global community of health for all.
Peng, also World Health Organization (WHO) Goodwill Ambassador for Tuberculosis and HIV/AIDS, made the remarks via video link on Monday at the opening ceremony of a special high-level event on the sidelines of the United Nations High-Level Meeting on AIDS.
The event aimed to provide a platform for WHO member states to reassert their commitment to ending TB deaths among people living with HIV and deliberate on how they will intensify the response to HIV-associated TB in the context of COVID-19.
Peng said the global fight against AIDS and TB has achieved remarkable results in recent years thanks to the concerted efforts made by the international community.
China has gradually established a cooperation mechanism between prevention and control institutions of AIDS and TB, she said. The country has kept the prevalence of AIDS at a low level, and in the past 20 years, the incidence of TB has dropped by more than 40 percent and the mortality rate by more than 70 percent.
These achievements have been made due to the attention paid by the Chinese government, the efforts of the medical personnel and the silent contributions of the volunteers, she said.
Peng also shared some touching stories and expressed her respect for people and volunteers worldwide who have contributed to the prevention and treatment of the diseases.
Major communicable diseases are among the common challenges facing mankind, and it is people's common wish to end the threats of AIDS and TB, said Peng.
She added that the ongoing COVID-19 pandemic has brought more challenges to the containment of the diseases, calling for global efforts to protect lives and forge ahead.