Full Text: Xi Jinping's Speech at Extraordinary China-Africa Summit on Solidarity Against COVID-19
Chinese President Xi Jinping on Wednesday delivered a speech titled "Defeating COVID-19 with Solidarity and Cooperation" at the Extraordinary China-Africa Summit on Solidarity against COVID-19 via video conference from Beijing, calling for more efforts to mobilize necessary resources, stick together in collaboration, and do whatever it takes to protect people's lives and health and minimize the fallout of COVID-19.
Here is the full text of the speech:
Your Excellency President Cyril Ramaphosa,
Your Excellency President Macky Sall,
Your Excellencies Heads of State and Government,
Your Excellency Moussa Faki Mahamat, Chairperson of the African Union Commission,
Your Excellency António Guterres, Secretary-General of the United Nations,
Your Excellency Tedros Adhanom Ghebreyesus, Director-General of the World Health Organization,
At such a critical moment in the global fight against COVID-19, we are gathered together in this Extraordinary China-Africa Summit. Friends old and new are connected via video link to discuss our joint response to COVID-19 and to renew the fraternity between China and Africa. I thank President Ramaphosa and President Sall for joining me in initiating the Summit, and I appreciate the participation of all colleagues present. I also want to send my regards to other African leaders who are not able to be with us today.
The sudden onslaught of COVID-19 has taken a heavy toll on countries around the world, with the loss of several hundred thousand precious lives. Here, I suggest that we observe a moment of silence for those who have tragically passed away due to COVID-19 and express our condolences to their families.
— In the face of COVID-19, China and Africa have withstood the test of a severe challenge. The Chinese people have put up a fierce fight and made enormous sacrifice to bring the situation in China under control. Still, we remain mindful of the risk of a resurgence. In the same spirit, governments and peoples in Africa have put up a united front and, under the effective coordination by the African Union, have taken strong measures to effectively slow the spread of the virus. These are indeed hard-won results.
— In the face of COVID-19, China and Africa have offered mutual support and fought shoulder to shoulder with each other. China shall always remember the invaluable support Africa gave us at the height of our battle with the coronavirus. In return, when Africa was struck by the virus, China was the first to rush in with assistance and has since stood firm with the African people.
— In the face of COVID-19, China and Africa have enhanced solidarity and strengthened friendship and mutual trust. Let me reaffirm China's commitment to its longstanding friendship with Africa. No matter how the international landscape may evolve, China shall never waver in its determination to pursue greater solidarity and cooperation with Africa.
Colleagues,
COVID-19 is still affecting many parts of the world. Both China and Africa face the formidable task of combating the virus while stabilizing the economy and protecting people's livelihoods. We must always put our people and their lives front and center. We must mobilize necessary resources, stick together in collaboration, and do whatever it takes to protect people's lives and health and minimize the fallout of COVID-19.
First, we must stay committed to fighting COVID-19 together. China will continue to do whatever it can to support Africa's response to COVID-19. China will lose no time in following through on the measures I announced at the opening of the World Health Assembly, and continue to help African countries by providing supplies, sending expert teams, and facilitating Africa's procurement of medical supplies in China. China will start ahead of schedule the construction of the Africa CDC headquarters this year. China will work with Africa to fully deliver the health care initiative adopted at the FOCAC Beijing Summit, and speed up the construction of China-Africa Friendship Hospitals and the cooperation between paired-up Chinese and African hospitals. Together, we will build a China-Africa community of health for all. We pledge that once the development and deployment of COVID-19 vaccine is completed in China, African countries will be among the first to benefit.
Second, we must stay committed to enhancing China-Africa cooperation. To cushion the impact of COVID-19, it is important to strengthen Belt and Road cooperation and accelerate the follow-ups to the FOCAC Beijing Summit. Greater priority needs to be given to cooperation on public health, economic reopening, and people's livelihood.
Within the FOCAC framework, China will cancel the debt of relevant African countries in the form of interest-free government loans that are due to mature by the end of 2020. For those African countries that are hardest hit by the coronavirus and are under heavy financial stress, China will work with the global community to give them greater support, by such means as further extending the period of debt suspension, to help them tide over the current difficulty. We encourage Chinese financial institutions to respond to the G20's Debt Service Suspension Initiative (DSSI) and to hold friendly consultations with African countries according to market principles to work out arrangements for commercial loans with sovereign guarantees. China will work with other members of the G20 to implement the DSSI and, on that basis, urge the G20 to extend debt service suspension still further for countries concerned, including those in Africa.
China hopes that the international community, especially developed countries and multilateral financial institutions, will act more forcefully on debt relief and suspension for Africa. China will work with the UN, WHO and other partners to assist Africa's response to COVID-19, and do it in a way that respects the will of Africa.
To help Africa achieve sustainable development is what matters in the long run. China supports Africa in its effort to develop the African Continental Free Trade Area and to enhance connectivity and strengthen industrial and supply chains. China will explore broader cooperation with Africa in such new business forms as digital economy, smart city, clean energy, and 5G to boost Africa's development and revitalization.
Third, we must stay committed to upholding multilateralism. In the face of COVID-19, solidarity and cooperation is our most powerful weapon. China will work with Africa to uphold the UN-centered global governance system and support WHO in making greater contribution to the global COVID-19 response. We oppose politicization and stigmatization of COVID-19, and we oppose racial discrimination and ideological bias. We stand firm for equity and justice in the world.
Fourth, we must stay committed to taking China-Africa friendship forward. The world is undergoing profound changes unseen in a century. Given the new opportunities and challenges we face, closer cooperation between China and Africa is needed, more than ever. On my part, I will stay in close touch with all of you, my colleagues, to consolidate our friendship and mutual trust, support each other on issues involving our respective core interests, and advance the fundamental interests of China and Africa and, for that matter, of all developing countries. This way, we will be able to take the China-Africa comprehensive strategic and cooperative partnership to a greater height.
Colleagues,
At the FOCAC Beijing Summit, we agreed to work together to build an even stronger China-Africa community with a shared future. Today's Extraordinary China-Africa Summit on Solidarity against COVID-19 is our concrete step to deliver the commitment we made at the Beijing Summit and to do our part in the international cooperation against COVID-19. I am convinced that humanity will ultimately defeat the virus, and that the Chinese and African people are poised to embrace better days ahead.
Thank you
Will Astronauts Have Private Time to Themselves During the Three-Month Trip to The Space Station?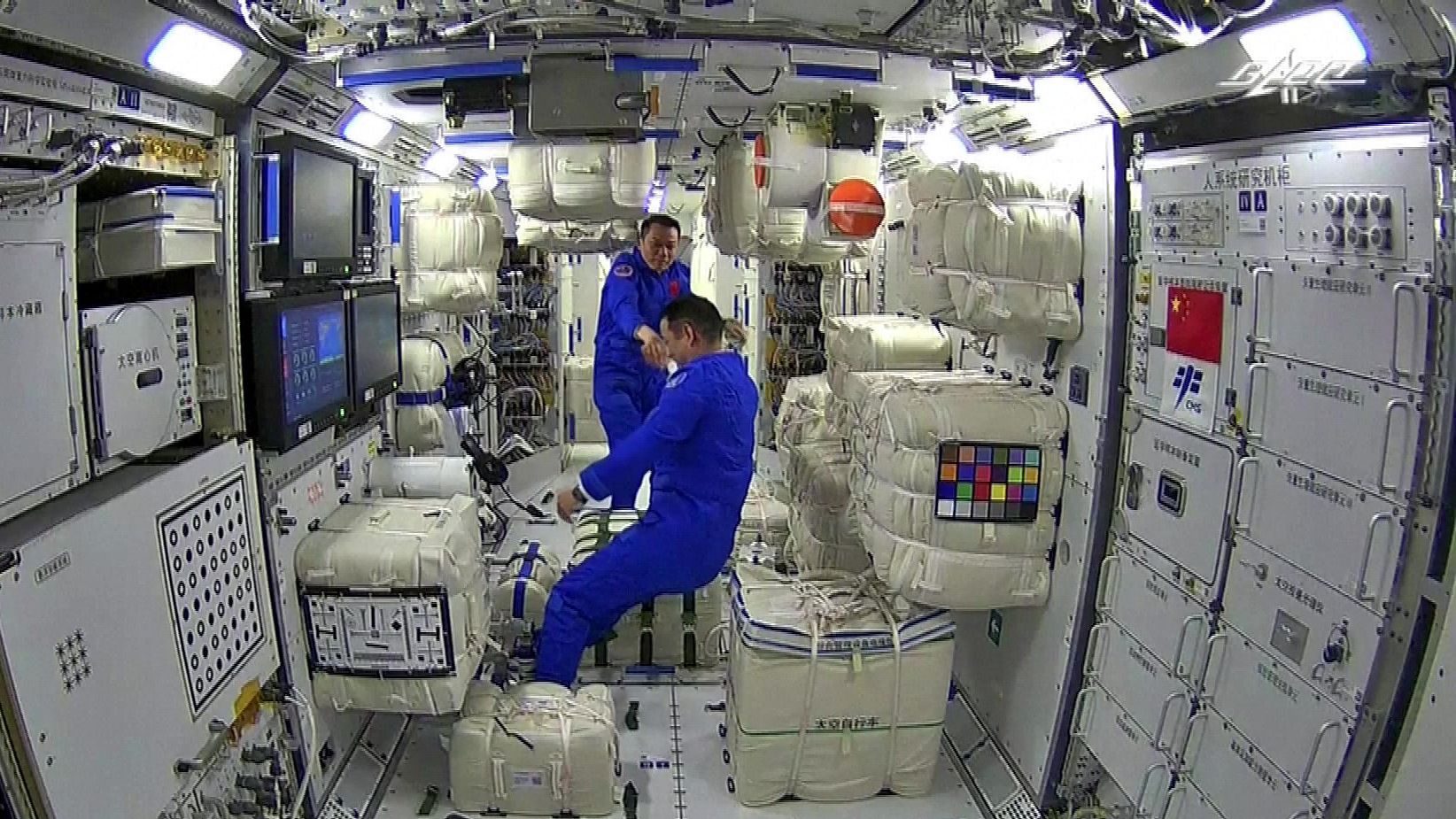 Three Chinese astronauts logged into space on June 17 to fly to the Chinese space station. This is China's first manned space mission in nearly five years, and the taikonauts will spend three months in space to help build the station and conduct experiments. Their flight has opened up endless reveries for many Chinese.
Father's Day: Three 'Treasures' Xi Jinping Gets From his Father
Falling on the third Sunday of June, Father's Day will be celebrated on June 20 this year.
Fathers always have a great influence on their children – the same applies to Chinese President Xi Jinping.
There are at least three characteristics that Xi has inherited from his father Xi Zhongxun (1913-2002), a leader of the Communist Party of China (CPC) and the state.
File photo of Xi Jinping (L) with his father Xi Zhongxun. /CMG
People-oriented philosophy
Many Chinese leaders started their careers from the grassroots, going through the difficulties ordinary people face and understanding the people's needs, which lays a solid foundation for their practical and people-oriented approach in formulating national policies.
The people-oriented philosophy is one of the most important treasures Xi Jinping got from his father, who believed that officials and the masses are equal and they must always live among the people.
The father once told his boy: "No matter what your job title is, serve the people diligently, consider the interests of the people with all your heart, maintain close ties with the people, and always stay approachable to the people."
Adhering to the path of "serving the people," Xi Jinping visited China's 14 contiguous areas of extreme poverty after becoming general secretary of the Communist Party of China (CPC) Central Committee in November 2012. He went to villages and households, and told communities that he is just "a servant of the people."
Chinese President Xi Jinping talks to people while visiting Fudao, a 19-km-long pedestrian walkway in Fuzhou, southeast China's Fujian Province, March 24, 2021. /Xinhua
During his domestic inspection tours, Xi Jinping always chatted with the locals, cared about their daily life and stressed the responsibilities of serving the people with other officials.
The Party has won the people's wholehearted support because it has always served the people with heart and soul and striven for the well-being of all ethnic groups, Xi has said on many occasions.
Down-to-earth approach
Inheriting his father's down-to-earth approach, Xi Jinping visited all the villages in Zhengding, Hebei Province during his tenure of county Party chief in the 1980s. Then in Ningde, Fujian, he visited nine counties within the first three months as secretary of the CPC Ningde Prefectural Committee, and traveled to most townships later on.
Xi Zhongxun (C) visits rural Huiyang, south China's Guangdong Province, August 1978. /CMG
After he was transferred to east China's Zhejiang Province in 2002, he visited all 90 counties in over a year. During his brief tenure in Shanghai in 2007, he visited all its 19 districts and counties in seven months.
The formulation of the country's 14th Five-Year Plan (2021-2025) for Economic and Social Development and future targets for 2035 also reflected Xi Jinping's adherence to investigation and research.
By convening and presiding over a number of symposiums, he listened to opinions and advices on the country's economic and social development in the plan period from all walks of life.
Living a simple life
The Xi's has a tradition of being strict with children and living a simple life. Xi Zhongxun believed if a senior Party official wanted to discipline others, he should begin first with himself and his family.
Xi Jinping and his younger brother used to wear clothes and shoes from their elder sisters. After Xi Jinping became a leading official, his mother called a family meeting to ban the siblings from engaging in business where Xi Jinping worked.
Xi Jinping has carried on his family's tradition and been strict with his family members. Wherever he worked, he told them not to do business there or do anything in his name, or else he "would be ruthless." Whether in Fujian, Zhejiang or Shanghai, he pledged at official meetings that no one was allowed to seek personal benefit using his name and welcomed supervision in this regard.
Peng Liyuan Calls for Global Efforts in AIDS and TB Prevention and Treatment
Peng Liyuan, wife of Chinese President Xi Jinping, called on people from all walks of life in all countries to join hands and take action to strengthen the prevention and treatment of AIDS and tuberculosis (TB), in order to benefit all mankind and build a global community of health for all.
Peng, also World Health Organization (WHO) Goodwill Ambassador for Tuberculosis and HIV/AIDS, made the remarks via video link on Monday at the opening ceremony of a special high-level event on the sidelines of the United Nations High-Level Meeting on AIDS.
The event aimed to provide a platform for WHO member states to reassert their commitment to ending TB deaths among people living with HIV and deliberate on how they will intensify the response to HIV-associated TB in the context of COVID-19.
Peng said the global fight against AIDS and TB has achieved remarkable results in recent years thanks to the concerted efforts made by the international community.
China has gradually established a cooperation mechanism between prevention and control institutions of AIDS and TB, she said. The country has kept the prevalence of AIDS at a low level, and in the past 20 years, the incidence of TB has dropped by more than 40 percent and the mortality rate by more than 70 percent.
These achievements have been made due to the attention paid by the Chinese government, the efforts of the medical personnel and the silent contributions of the volunteers, she said.
Peng also shared some touching stories and expressed her respect for people and volunteers worldwide who have contributed to the prevention and treatment of the diseases.
Major communicable diseases are among the common challenges facing mankind, and it is people's common wish to end the threats of AIDS and TB, said Peng.
She added that the ongoing COVID-19 pandemic has brought more challenges to the containment of the diseases, calling for global efforts to protect lives and forge ahead.