Former South Africa President, Jacob Zuma Returns To Court For Pre-Trial Hearing In Corruption Case
South Africa's embattled ex-president Jacob Zuma returned to court on Tuesday for the latest round in a corruption case that saw lawyers clash angrily over the much-delayed proceedings.
Zuma, in power from 2009 to 2018, faces 16 charges of fraud, graft and racketeering relating to the purchase of fighter jets, patrol boats and military equipment.
He allegedly took bribes of four million rand ($220,000 / 200,000 euros) over a $3.4-billion arms deal with French aerospace and defence giant Thales in 1999, when he was deputy president.
After heated exchanges between prosecution and defence attorneys in the latest pre-trial hearing in the 15-year-old case, Judge Kate Pillay adjourned until September 8 when, she hoped, a date would be set for the trial's start.
"Hopefully the application will be launched and perhaps even heard, if an urgent date would be secured," Pillay said.
Pillay also cancelled the arrest warrant the ex-president was slapped with in February after he failed to appear for a pre-trial hearing while undergoing medical treatment in Cuba.
Outside the High Court in Pietermaritzburg, Zuma's son Edward Zuma told local television station eNCA, "I doubt that he will get a fair trial."
"Clearly this conspiracy against former President Zuma is not something that is new, and it's not something that will end now, it is something will forever be there until they achieve what they want to achieve," he said.
Zuma was forced to step down in 2018 by the ruling African National Congress (ANC) after a nine-year reign marked by corruption allegations and dwindling popularity.
He recently abandoned several attempts to halt the trial, claiming his "innocence (would be) demonstrated for all to see".
Will Astronauts Have Private Time to Themselves During the Three-Month Trip to The Space Station?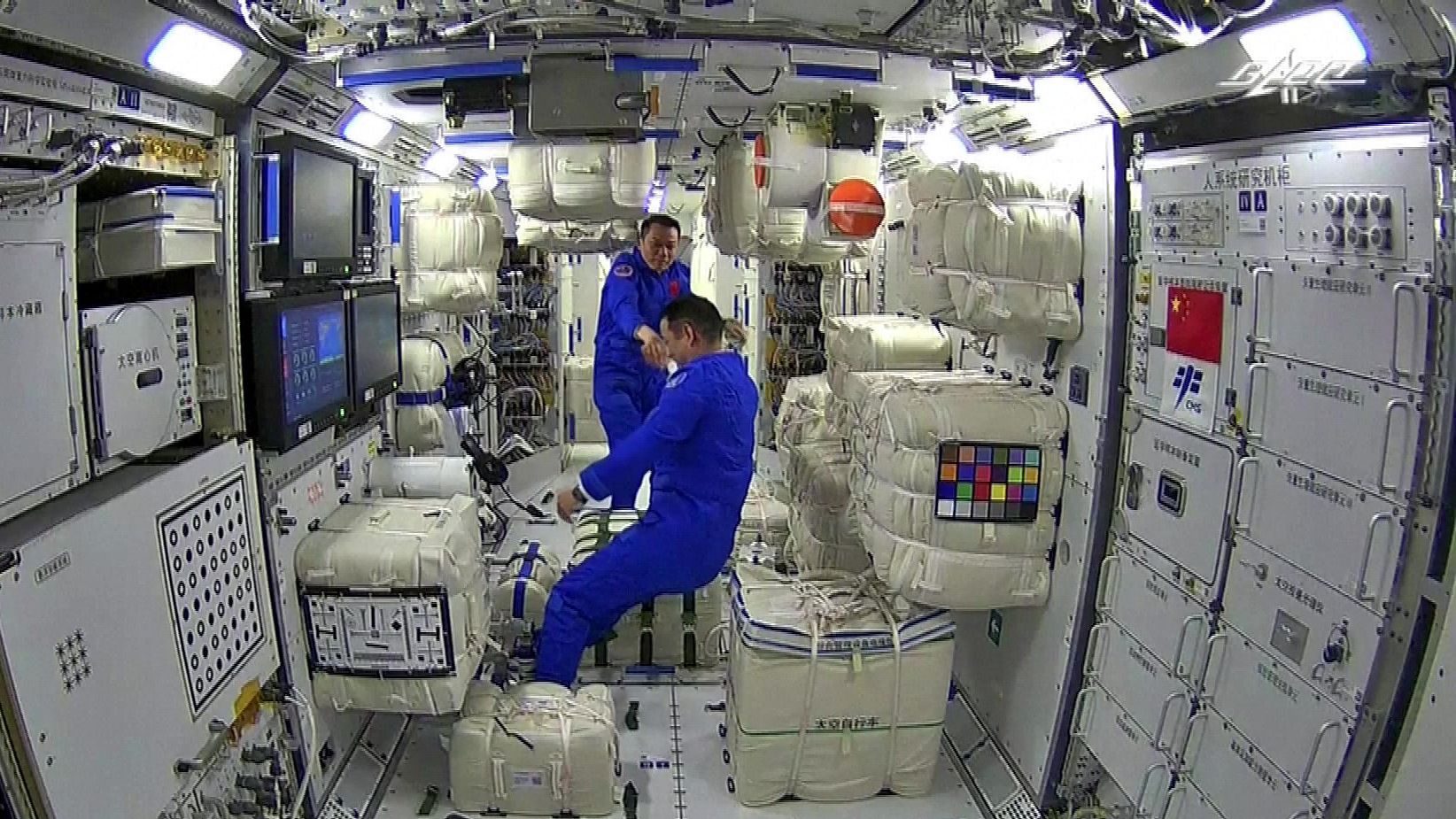 Three Chinese astronauts logged into space on June 17 to fly to the Chinese space station. This is China's first manned space mission in nearly five years, and the taikonauts will spend three months in space to help build the station and conduct experiments. Their flight has opened up endless reveries for many Chinese.
Father's Day: Three 'Treasures' Xi Jinping Gets From his Father
Falling on the third Sunday of June, Father's Day will be celebrated on June 20 this year.
Fathers always have a great influence on their children – the same applies to Chinese President Xi Jinping.
There are at least three characteristics that Xi has inherited from his father Xi Zhongxun (1913-2002), a leader of the Communist Party of China (CPC) and the state.
File photo of Xi Jinping (L) with his father Xi Zhongxun. /CMG
People-oriented philosophy
Many Chinese leaders started their careers from the grassroots, going through the difficulties ordinary people face and understanding the people's needs, which lays a solid foundation for their practical and people-oriented approach in formulating national policies.
The people-oriented philosophy is one of the most important treasures Xi Jinping got from his father, who believed that officials and the masses are equal and they must always live among the people.
The father once told his boy: "No matter what your job title is, serve the people diligently, consider the interests of the people with all your heart, maintain close ties with the people, and always stay approachable to the people."
Adhering to the path of "serving the people," Xi Jinping visited China's 14 contiguous areas of extreme poverty after becoming general secretary of the Communist Party of China (CPC) Central Committee in November 2012. He went to villages and households, and told communities that he is just "a servant of the people."
Chinese President Xi Jinping talks to people while visiting Fudao, a 19-km-long pedestrian walkway in Fuzhou, southeast China's Fujian Province, March 24, 2021. /Xinhua
During his domestic inspection tours, Xi Jinping always chatted with the locals, cared about their daily life and stressed the responsibilities of serving the people with other officials.
The Party has won the people's wholehearted support because it has always served the people with heart and soul and striven for the well-being of all ethnic groups, Xi has said on many occasions.
Down-to-earth approach
Inheriting his father's down-to-earth approach, Xi Jinping visited all the villages in Zhengding, Hebei Province during his tenure of county Party chief in the 1980s. Then in Ningde, Fujian, he visited nine counties within the first three months as secretary of the CPC Ningde Prefectural Committee, and traveled to most townships later on.
Xi Zhongxun (C) visits rural Huiyang, south China's Guangdong Province, August 1978. /CMG
After he was transferred to east China's Zhejiang Province in 2002, he visited all 90 counties in over a year. During his brief tenure in Shanghai in 2007, he visited all its 19 districts and counties in seven months.
The formulation of the country's 14th Five-Year Plan (2021-2025) for Economic and Social Development and future targets for 2035 also reflected Xi Jinping's adherence to investigation and research.
By convening and presiding over a number of symposiums, he listened to opinions and advices on the country's economic and social development in the plan period from all walks of life.
Living a simple life
The Xi's has a tradition of being strict with children and living a simple life. Xi Zhongxun believed if a senior Party official wanted to discipline others, he should begin first with himself and his family.
Xi Jinping and his younger brother used to wear clothes and shoes from their elder sisters. After Xi Jinping became a leading official, his mother called a family meeting to ban the siblings from engaging in business where Xi Jinping worked.
Xi Jinping has carried on his family's tradition and been strict with his family members. Wherever he worked, he told them not to do business there or do anything in his name, or else he "would be ruthless." Whether in Fujian, Zhejiang or Shanghai, he pledged at official meetings that no one was allowed to seek personal benefit using his name and welcomed supervision in this regard.
Peng Liyuan Calls for Global Efforts in AIDS and TB Prevention and Treatment
Peng Liyuan, wife of Chinese President Xi Jinping, called on people from all walks of life in all countries to join hands and take action to strengthen the prevention and treatment of AIDS and tuberculosis (TB), in order to benefit all mankind and build a global community of health for all.
Peng, also World Health Organization (WHO) Goodwill Ambassador for Tuberculosis and HIV/AIDS, made the remarks via video link on Monday at the opening ceremony of a special high-level event on the sidelines of the United Nations High-Level Meeting on AIDS.
The event aimed to provide a platform for WHO member states to reassert their commitment to ending TB deaths among people living with HIV and deliberate on how they will intensify the response to HIV-associated TB in the context of COVID-19.
Peng said the global fight against AIDS and TB has achieved remarkable results in recent years thanks to the concerted efforts made by the international community.
China has gradually established a cooperation mechanism between prevention and control institutions of AIDS and TB, she said. The country has kept the prevalence of AIDS at a low level, and in the past 20 years, the incidence of TB has dropped by more than 40 percent and the mortality rate by more than 70 percent.
These achievements have been made due to the attention paid by the Chinese government, the efforts of the medical personnel and the silent contributions of the volunteers, she said.
Peng also shared some touching stories and expressed her respect for people and volunteers worldwide who have contributed to the prevention and treatment of the diseases.
Major communicable diseases are among the common challenges facing mankind, and it is people's common wish to end the threats of AIDS and TB, said Peng.
She added that the ongoing COVID-19 pandemic has brought more challenges to the containment of the diseases, calling for global efforts to protect lives and forge ahead.