China Approves Emergency Usage of COVID-19 Vaccines, Official Says
"We've drawn up a series of plan packages, including medical consent forms, side-effects monitoring plans, rescuing plans, compensation plans, to make sure the emergency use is well regulated and monitored," Zheng Zhongwei, head of China's coronavirus vaccine development task force told CCTV.
An emergency use authorization, which is based on Chinese vaccine management law, allows unapproved vaccine candidates to be used among people who are at high risk of getting infected on a limited period
By first inoculating the special groups, like frontline medical workers and civil servants, the move is to ensure that a city can keep normal functions when a health crisis strikes, the law stated.
Similar authorizations have been legalized in many countries. For example, U.S. Food and Drug Administration allows unapproved medical products to be used in an emergency to diagnose, treat or prevent life-threatening disease or conditions.
The national agency has used several emergency use authorizations since the coronavirus outbreak as a way to get many diagnostic tests more quickly to the market than the normal procedures.
"We are planning to scale up the inoculating group to better prepare for a possible next wave in autumn and winter," Zheng added.
Zheng Zhongwei, head of China's coronavirus vaccine development task force talks about vaccines on CCTV. /Screenshot
New vaccine approved for human trials
A new coronavirus vaccine cultivated within insect cells by West China Hospital of Sichuan University in Chengdu has been approved for human trial, according to local government on Saturday.
Using insect cells to grow proteins for the coronavirus vaccine – a first in China – could speed up large-scale production, the Chengdu city government said in a notice on its official WeChat account.
Animal tests have shown promising results in preventing coronavirus infection, the notice said, and no obvious side effects have found.
Over 20,000 volunteers in vaccine clinical trials
According to China's National Medical Products Administration, at least eight potential coronavirus vaccines have entered different stages of clinical trials.
In an interview with CCTV, Yang Xiaoming, chief scientist of China's vaccine development and CEO of China National Biotec Group (CNBG) said they've signed agreements with many countries on inactivated vaccine clinical trials over the past few months.
"Over 20,000 people has been vaccinated," Yang added, "Vaccine safety is well guaranteed; the effectiveness is being closely monitored."
The company announced on late Friday Argentina joined Peru, Morocco and the United Arab Emirates (UAE) in approving Phase 3 clinical trials for their inactivated coronavirus vaccine.
The experimental vaccine by CNBG received approval from the UAE in June for a Phase 3 trial and has since recruited 15,000 volunteers, according to the company.
Will Astronauts Have Private Time to Themselves During the Three-Month Trip to The Space Station?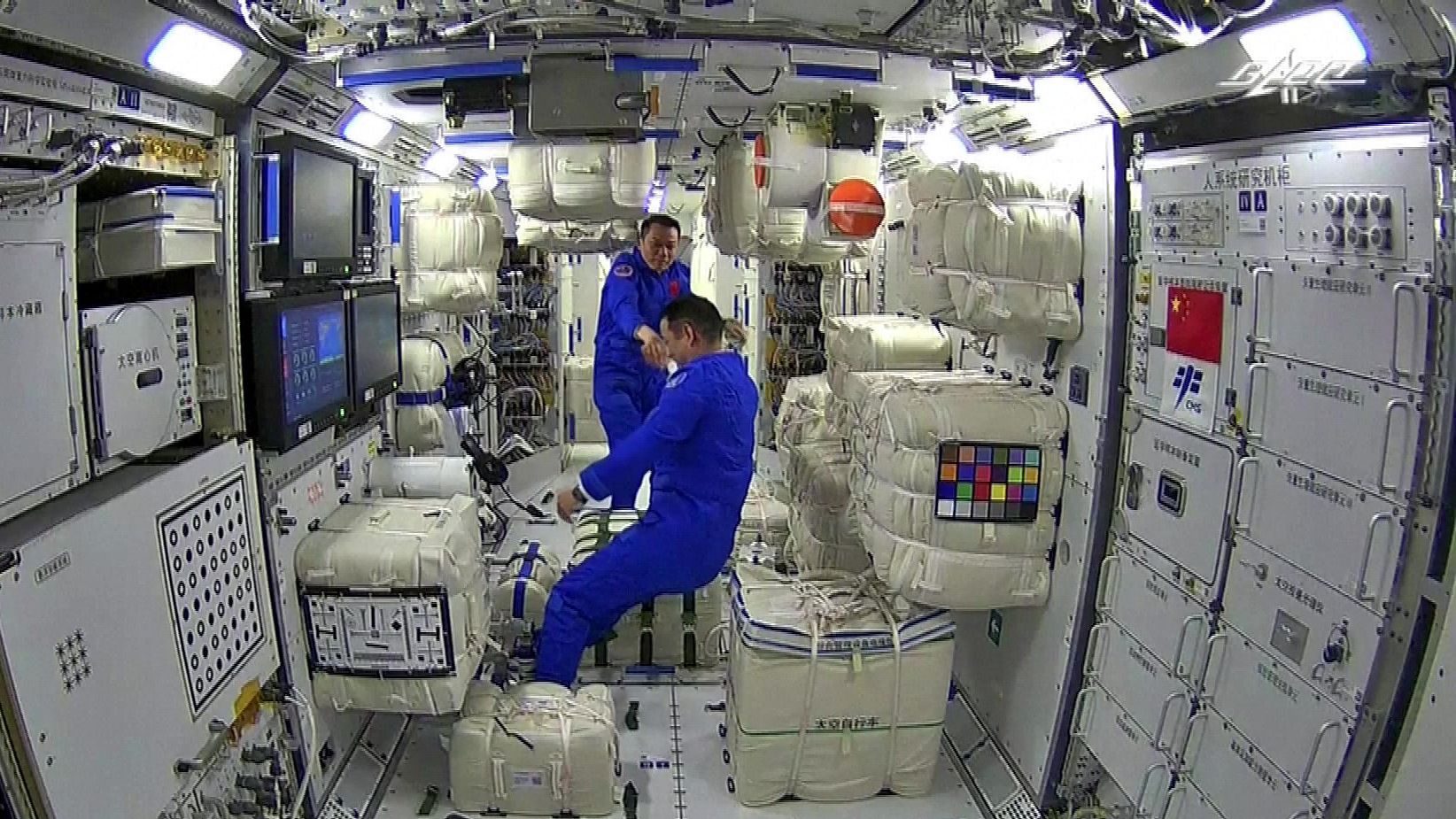 Three Chinese astronauts logged into space on June 17 to fly to the Chinese space station. This is China's first manned space mission in nearly five years, and the taikonauts will spend three months in space to help build the station and conduct experiments. Their flight has opened up endless reveries for many Chinese.
Father's Day: Three 'Treasures' Xi Jinping Gets From his Father
Falling on the third Sunday of June, Father's Day will be celebrated on June 20 this year.
Fathers always have a great influence on their children – the same applies to Chinese President Xi Jinping.
There are at least three characteristics that Xi has inherited from his father Xi Zhongxun (1913-2002), a leader of the Communist Party of China (CPC) and the state.
File photo of Xi Jinping (L) with his father Xi Zhongxun. /CMG
People-oriented philosophy
Many Chinese leaders started their careers from the grassroots, going through the difficulties ordinary people face and understanding the people's needs, which lays a solid foundation for their practical and people-oriented approach in formulating national policies.
The people-oriented philosophy is one of the most important treasures Xi Jinping got from his father, who believed that officials and the masses are equal and they must always live among the people.
The father once told his boy: "No matter what your job title is, serve the people diligently, consider the interests of the people with all your heart, maintain close ties with the people, and always stay approachable to the people."
Adhering to the path of "serving the people," Xi Jinping visited China's 14 contiguous areas of extreme poverty after becoming general secretary of the Communist Party of China (CPC) Central Committee in November 2012. He went to villages and households, and told communities that he is just "a servant of the people."
Chinese President Xi Jinping talks to people while visiting Fudao, a 19-km-long pedestrian walkway in Fuzhou, southeast China's Fujian Province, March 24, 2021. /Xinhua
During his domestic inspection tours, Xi Jinping always chatted with the locals, cared about their daily life and stressed the responsibilities of serving the people with other officials.
The Party has won the people's wholehearted support because it has always served the people with heart and soul and striven for the well-being of all ethnic groups, Xi has said on many occasions.
Down-to-earth approach
Inheriting his father's down-to-earth approach, Xi Jinping visited all the villages in Zhengding, Hebei Province during his tenure of county Party chief in the 1980s. Then in Ningde, Fujian, he visited nine counties within the first three months as secretary of the CPC Ningde Prefectural Committee, and traveled to most townships later on.
Xi Zhongxun (C) visits rural Huiyang, south China's Guangdong Province, August 1978. /CMG
After he was transferred to east China's Zhejiang Province in 2002, he visited all 90 counties in over a year. During his brief tenure in Shanghai in 2007, he visited all its 19 districts and counties in seven months.
The formulation of the country's 14th Five-Year Plan (2021-2025) for Economic and Social Development and future targets for 2035 also reflected Xi Jinping's adherence to investigation and research.
By convening and presiding over a number of symposiums, he listened to opinions and advices on the country's economic and social development in the plan period from all walks of life.
Living a simple life
The Xi's has a tradition of being strict with children and living a simple life. Xi Zhongxun believed if a senior Party official wanted to discipline others, he should begin first with himself and his family.
Xi Jinping and his younger brother used to wear clothes and shoes from their elder sisters. After Xi Jinping became a leading official, his mother called a family meeting to ban the siblings from engaging in business where Xi Jinping worked.
Xi Jinping has carried on his family's tradition and been strict with his family members. Wherever he worked, he told them not to do business there or do anything in his name, or else he "would be ruthless." Whether in Fujian, Zhejiang or Shanghai, he pledged at official meetings that no one was allowed to seek personal benefit using his name and welcomed supervision in this regard.
Peng Liyuan Calls for Global Efforts in AIDS and TB Prevention and Treatment
Peng Liyuan, wife of Chinese President Xi Jinping, called on people from all walks of life in all countries to join hands and take action to strengthen the prevention and treatment of AIDS and tuberculosis (TB), in order to benefit all mankind and build a global community of health for all.
Peng, also World Health Organization (WHO) Goodwill Ambassador for Tuberculosis and HIV/AIDS, made the remarks via video link on Monday at the opening ceremony of a special high-level event on the sidelines of the United Nations High-Level Meeting on AIDS.
The event aimed to provide a platform for WHO member states to reassert their commitment to ending TB deaths among people living with HIV and deliberate on how they will intensify the response to HIV-associated TB in the context of COVID-19.
Peng said the global fight against AIDS and TB has achieved remarkable results in recent years thanks to the concerted efforts made by the international community.
China has gradually established a cooperation mechanism between prevention and control institutions of AIDS and TB, she said. The country has kept the prevalence of AIDS at a low level, and in the past 20 years, the incidence of TB has dropped by more than 40 percent and the mortality rate by more than 70 percent.
These achievements have been made due to the attention paid by the Chinese government, the efforts of the medical personnel and the silent contributions of the volunteers, she said.
Peng also shared some touching stories and expressed her respect for people and volunteers worldwide who have contributed to the prevention and treatment of the diseases.
Major communicable diseases are among the common challenges facing mankind, and it is people's common wish to end the threats of AIDS and TB, said Peng.
She added that the ongoing COVID-19 pandemic has brought more challenges to the containment of the diseases, calling for global efforts to protect lives and forge ahead.