China's Path To Carbon Neutrality By 2060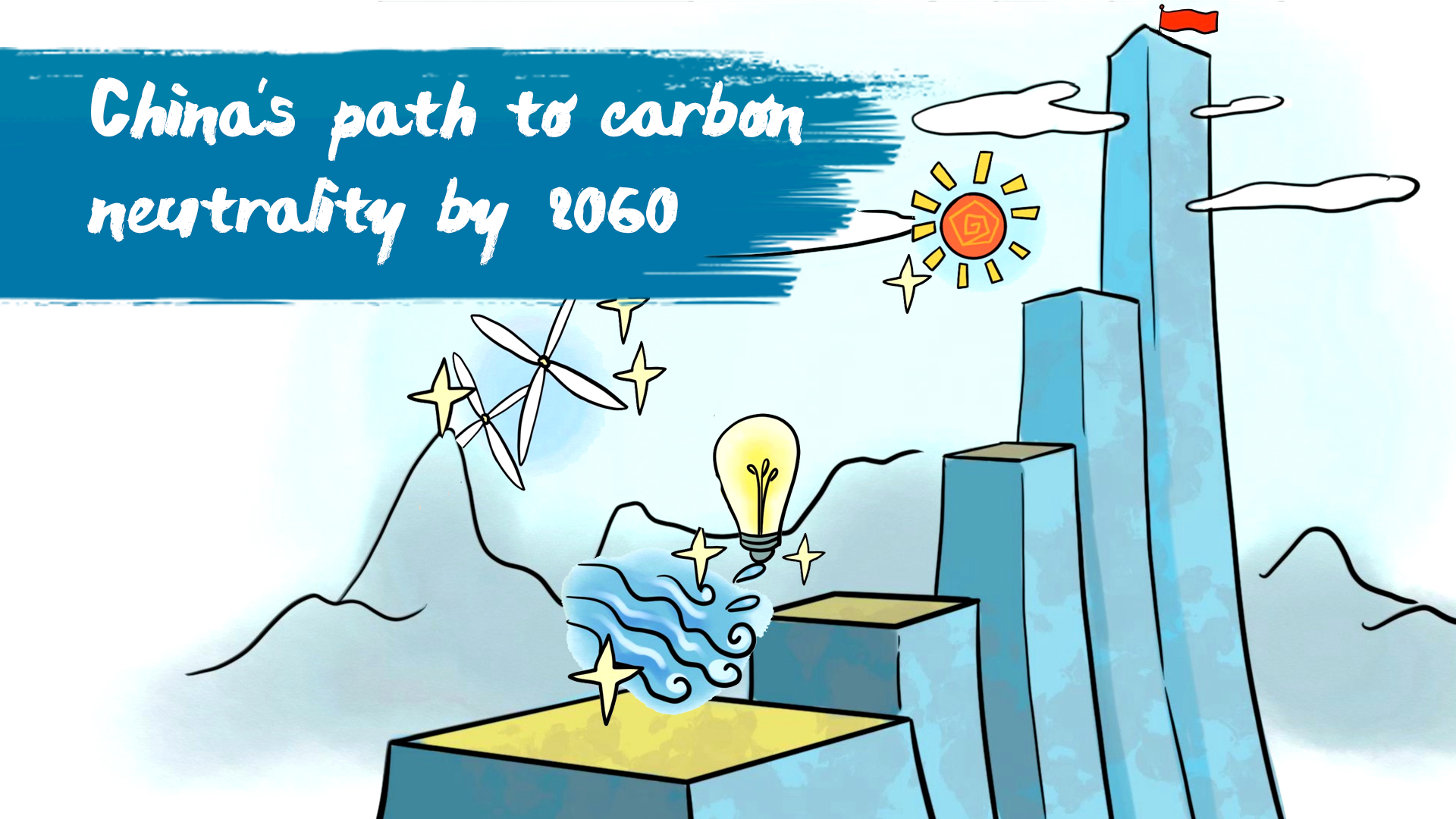 When China announced it would work towards achieving carbon neutrality by 2060, many saw it as nothing short of earth-shattering in the global fight against climate change.
Why?
China is the world's largest emitter of carbon dioxide – a potent greenhouse gas – accounting for 28 percent of the world's total output every year. In 2019, China's emissions surpassed those of the U.S., Europe and Japan combined. Despite China's per capita emissions being less than half of the U.S.', a significant part of the global fight against climate change still hinges on China's actions.
Then, can China achieve its ambitious goal?
This surely won't be an easy task.
There is no denying that China has made significant strides in recent years in its low-carbon transition, by deploying renewable energy on a massive scale, among other measures.
As of 2019, China's installed solar and wind power capacities accounted for a third of the world's respective totals. It is currently constructing more power plants than any other country in the world. The country is also the world's largest manufacturer and seller of electric cars and buses.
But the picture is not all rosy. Fossil fuels, which produce large amounts of carbon dioxide still make up 85 percent of China's energy consumption. Coal, a major fossil fuel, alone accounts for 60 percent of China's energy consumption while the global average is around 30 percent.
This means that for China to meet its momentous 2060 goal, it will have to significantly double down on its ongoing de-carbonization efforts.
But how?
The emissions of China's carbon dioxide can be traced to five main sectors: energy, manufacturing, transportation, agriculture and construction.
Its energy and manufacturing sectors are leading sources of its carbon emissions. The country will have to dramatically increase its use of renewable energy over the next decades, transforming its current energy structure.
This should not only be applied to the energy sector that generates electricity, but also to others, such as the transportation sector where electric vehicles should replace those powered by traditional energy.
At the same time, technology will have to play an essential part in the process with roles ranging from improving energy efficiency, reducing or even removing greenhouse gases emissions in various sectors, to changing where carbon dioxide is emitted.
For example, carbon capture and storage techniques are receiving increased attention in the energy and manufacturing sectors. Their deployment means wasted carbon dioxide can be captured and later released where it does not enter the atmosphere.
All these transformations will require the government to implement policies that can incentivize individuals and businesses to reduce their own carbon footprint. Meanwhile, capital also needs to be injected to make changes possible. According to an estimate by Boston Consulting Group, China would need 90 to 100 trillion yuan in investment between now and 2050 to support its carbon neutrality agenda.
China's path to realizing its 2060 carbon neutrality goal will not be an easy ride. However, this long-term goal is an indication of China's great commitment to a green transition. Although the goal is 40 years down the road, the efforts need to begin today.
Scriptwriter: Xu Sicong
Managing editor: Xu Sicong
Senior producer: Wei Wei
Managing director: Mei Yan
(If you want to contribute and have specific expertise, please contact us at opinions@cgtn.com.)
Danish Scholar: Report by U.S., Canadian Think Tanks on Xinjiang is Full of Lies
In March, the U.S. Newlines Institute for Strategy and Policy and the Canadian Raoul Wallenberg Center for Human Rights published a report on Xinjiang, fabricating lies to attack the human rights situation in the region. In response to this so-called "academic report," European scholars have jointly published a report, noting that the Newlines institute has close ties to the U.S. government and that the identity of the experts who drafted the study is unclear.
In a recent exclusive interview with China Media Group, Danish scholar Jan Oberg, also the co-founder of The Transnational Foundation for Peace & Future Research (TFF), said that the data in the report released by the American and Canadian institutes were full of falsehoods and had no academic basis.
Xi Jinping Visits Relocated Nanyang Locals for China's Mega Water Diversion Project
Chinese President Xi Jinping on Thursday paid a visit to relocated residents for the country's mega water diversion project on the second day of his trip in Nanyang, central China's Henan Province.
His visit this time marks his sixth inspection around the country this year, following southern areas of Guangxi and Fujian, southwest province of Guizhou, northern province of Hebei and capital Beijing.
To quench the thirsty north
The South-to-North Water Diversion Project – the world's largest operation of its kind – was designed to optimize the allocation of water sources of the country and quench the thirsty north. Essentially, that would require taking water from China's longest river, the Yangtze, through the project's eastern, middle and western routes to feed the north.
On Thursday afternoon, Xi, also general secretary of the Communist Party of China (CPC) Central Committee, went to the county of Xichuan, where he inspected the Taocha Canal Head, the Danjiangkou Reservoir and the village of Zouzhuang.
Xi listened to updates on the construction, management and operation of the middle route of the water diversion project, and the ecological conservation of the water source region.
He also learned about the resettlement of people relocated because of the project, and measures to develop specialty industries and boost the incomes of resettled residents.
Xi told the villagers that he was concerned about their livelihoods and the whole nation should be gratitude for their sacrifice to make people along the route to drink good quality water.
According to official data released in February, over 40 billion cubic meters of water were transferred through the project's middle and eastern routes since part of the project went into operation.
The middle route of the project – the most prominent of the three routes of the project – starts from the Danjiangkou Reservoir in central China and runs across Henan and Hebei provinces before reaching Beijing and Tianjin.
Xi also visited a villager surnamed Zou. Zou said life is getting better thanks to the leadership of the CPC.
"This year marks the 100th founding anniversary of the CPC. 100 years ago, the CPC was founded to make a good life for the people, not for its own interests," Xi said.
"The 100-year history of our Party's struggle is the history of working for the happiness of the people. The people are the rivers and mountains. The Party fights for and guards the rivers and mountains, all for the happiness of the people," Xi stressed.
How Does Xi Jinping Express Gratitude And Love to his Mother?
As International Mother's Day, an important occasion that falls on the second Sunday of May every year, will be celebrated on May 9 this year, the media started reporting moving stories about mothers and children.
Among the stories, Xi Jinping's stands out as he is not only a son but also the president of China.
How does the president express gratitude and love to his mother? Xi's way can be figured out when he stressed the importance of family bonds and family love and emphasized family education on many occasions.
Xi Jinping and his mother Qi Xin. /CCTV
Pass down family tradition
When President Xi delivered his first New Year address in 2013, photos placed on his bookshelves caught the online community's attention, especially the image of him walking hand in hand with his mother.
Xi is a filial son. He chats with his mother Qi Xin, and takes a walk with her whenever he has time.
While meeting with representatives to the first National Conference of Model Families in December 2016, Xi told a story about family education. The conference was the first of its kind to honor model families selected nationwide. A total of 300 model families were honored.
"When I was a child, my mother gave me a picture-story book series-'The Legend of Yue Fei.' One of its more than 10 volumes shows Yue Fei's mother tattooing four characters saying 'serve the country with the utmost loyalty' across his back," Xi said, adding that the story of Yue Fei, a well-known ancient military figure fighting against invasion, deeply impressed him.
Self-discipline
Qi led a simple life, which became a tradition for the family. No matter how painstaking to take care of the family while working, she never compromised her work. Her lifestyle and the family atmosphere guided Xi's values.
"A person who failed to be incorruptible and self-disciplined will become a person with no guts. Keep in mind that honesty is a blessing and greed is a curse while establishing a correct view of power, status, and interests," Qi once wrote in a letter to Xi, reminding him of self-discipline. Xi has incorporated these beliefs into his ideology and governance practices.
Calling corruption the "biggest" risk to the Party's governance, Xi has stressed there is "no alternative" but to fight corruption against all odds and called for rigorous self-discipline within the Party.
While going after corrupt officials, including both high-ranking "tigers" to lower-level "flies" on the domestic front, Beijing has also carried out such operations as "Sky Net" and "Fox Hunt" to hunt down venal officials who have fled abroad.