China Outlines Four-Point Proposal on Global Fight Against Corruption
China made a four-point proposal on international cooperation against corruption on Wednesday, calling for a zero-tolerance attitude toward corruption and respect for differences between countries.
Zhao Leji, a member of the Standing Committee of the Political Bureau of the Communist Party of China (CPC) Central Committee and secretary of the Central Commission for Discipline Inspection of the CPC (CCDI), made the remarks during a special session of the United Nations General Assembly on challenges and measures to prevent and combat corruption and strengthen international cooperation.
"China is an active participant in and contributor to global anti-corruption governance," Zhao said. The country contributed to the adoption of the Beijing Declaration on Fighting Corruption by APEC and the High-Level Principles on Cooperation on Persons Sought for Corruption and Asset Recovery by the G20, and put forward the Beijing Initiative for the Clean Silk Road to deepen Belt and Road cooperation, he noted.
China's anti-graft chief Zhao Leji addresses a special session of the UN General Assembly on fighting corruption via video link, June 2, 2021. /Xinhua
Outlining China's proposal on global anti-corruption cooperation, he called for extensive efforts to uphold fairness and justice.
"The international community needs to forge broad political consensus, take a zero-tolerance attitude toward corruption, build zero-loophole institutions, carry out zero-barrier cooperation, and press ahead with cooperation on persons sought for corruption and asset recovery and on foreign business bribery," he said.
Meanwhile, countries should respect differences between them and promote equality and mutual learning, he stressed.
"We need to respect the sovereignty and political and legal systems of each country, respect their right to choose their own ways of fighting corruption, and foster an international partnership for anti-corruption cooperation that is based on equality, respect for differences, exchanges and mutual learning, and common progress."
China's anti-graft chief called on the international community to "pursue mutually-beneficial cooperation through extensive consultation and joint contribution."
He also urged countries across the world to "honor commitments and put action first." Signatories to the UN Convention against Corruption should "honor their solemn commitment of fighting corruption together."
China's 'sweeping victory' against corruption
Zhao reviewed China's anti-corruption drive, stressing that the CPC and the Chinese government "stand unequivocally against corruption."
"We have adopted a holistic approach to address both symptoms and root causes of corruption, and combined law-based punishment, institutional checks, and education and guidance to made our anti-corruption governance more effective," he said.
In 2020, disciplinary inspection commissions and supervision agencies across the country investigated about 618,000 corruption cases, leading to the punishment of 604,000 people, a report by China's top anti-graft body said. A total 1,421 fugitives were brought back to China last year, the CCDI report showed.
With "multi-pronged measures" to tackle all acts of corruption, China has secured and consolidated a "sweeping victory" in the fight, Zhao said.
According to a recent survey by China's National Bureau of Statistics, 95.8 percent of the Chinese people are satisfied with the country's anti-corruption efforts, he noted.
'We cannot allow corruption to continue'
The UN General Assembly convened its first ever special session on combating corruption on Wednesday. The special session will conclude on Friday.
President of the 75th session of the UN General Assembly Volkan Bozkir addresses a special session on fighting corruption in New York, June 2, 2021. /Xinhua
Addressing the special session, Volkan Bozkir, president of the 75th session of the UN General Assembly, said Wednesday the effects of corruption are "detrimental to all of society" and that it should not be allowed to continue unchecked.
"Transnational financial crime and corruption are unfortunately commonplace in our interconnected, interdependent world," Bozkir said, adding that corruption affects decision-making processes and "remains one of the most critical challenges for states, institutions, and communities."
"We cannot allow corruption to continue. We will not," he stressed.
Think Tank Releases an Analytical Report on the Global Situation of the COVID-19 Pandemic
As the global spread of the COVID-19 pandemic has not yet subsided, the CGTN Think Tank has released the Analytical Report on the Global Situation of the COVID-19 Pandemic (the "Report") by sourcing data from the Johns Hopkins University website, Our World in Data and Pharmaceutical Technology that have not been comprehensively processed, analyzing research literature from the academic community and referring to the known impact of the pandemic on global economic and social development as well as the recommendations on its prevention and control from renowned public health experts. The Report puts together the data on pandemic prevention and control measures in 51 sample countries to make rankings as a way of reflecting the current situation of pandemic control in these countries. It focuses on the importance that countries attach to personal safety, social and environmental stability, thereby providing ideas and directions for countries around the world to fight the pandemic.
The Report analyzes and evaluates the current status of pandemic prevention and control in the 51 countries based on five indicators, including the total number of confirmed cases, the number of newly confirmed cases, the total number of deaths, the number of vaccinations and the full cycle from pandemic outbreak to control as of 14 July.
The data shows that the United States has the worst performance on three of the five statistical indicators. The U.S. has over 34 million confirmed cases in total, the highest in the world, and over 600,000 deaths in total, also the highest in the world; and the number of days with less than 5,000 daily new cases in the full cycle from pandemic outbreak to control is only 62, still the worst among the sample countries.
According to the data, the situation in main European countries is not encouraging. When it comes to the total number of confirmed cases and deaths, France, the UK and Italy all rank high.
The data shows that some Asian countries have performed well in pandemic prevention and control, thanks to effective measures such as entry bans, quarantine and stringent testing at the border. China has the lowest number of confirmed new cases among the sample countries and the highest number of vaccinations in the world; Singapore and Vietnam rank low among all sample countries for the total number of COVID-19 deaths; and South Korea has adjusted the level of pandemic response in a timely manner, resulting in 537 days with less than 5,000 daily new cases.
In terms of the number of vaccinations, China is one of a few developing countries with the highest number of COVID-19 vaccinations due to its ability to develop and manufacture its own vaccines. At present, over 1.4 billion doses of COVID-19 vaccines have been administered in China. China has also supplied more than 500 million doses of COVID-19 vaccines and stock solutions to more than 100 countries and international organizations worldwide, equivalent to one-sixth of the total global vaccine production. However, the statistics also lay bare that the vaccination progress in developing countries is significantly worse than that in developed countries, due to the severe inequality in the global distribution of vaccines. Countries with a poor vaccination record, such as Vietnam and Iraq, are still far from reaching herd immunity due to various limitations, such as poor health service and vaccine hoarding by certain developed countries.
The polarization in the number of confirmed cases, the number of deaths and the number of people vaccinated in different countries and regions of the world, as shown by the objective statistics, is very much related to national pandemic prevention and control policies and measures, and highlights the crucial role played by a country's government in pandemic prevention and control.
COVID-19 tracker: the latest figures by country
Xi Jinping Inspects Southwest China's Tibet
President Xi Jinping visited the city of Nyingchi in southwest China's Tibet Autonomous Region. He arrived at Nyingchi Mainling Airport on Wednesday and was welcomed by local residents and officials of various ethnic groups.
He then visited the Nyang River Bridge to inspect ecological preservation in the basin of the Yarlung Zangbo River and its tributary Nyang River.
In the afternoon, President Xi visited an urban planning center, a village and a park to learn about urban development planning, rural revitalization, urban park construction and other work. 00:37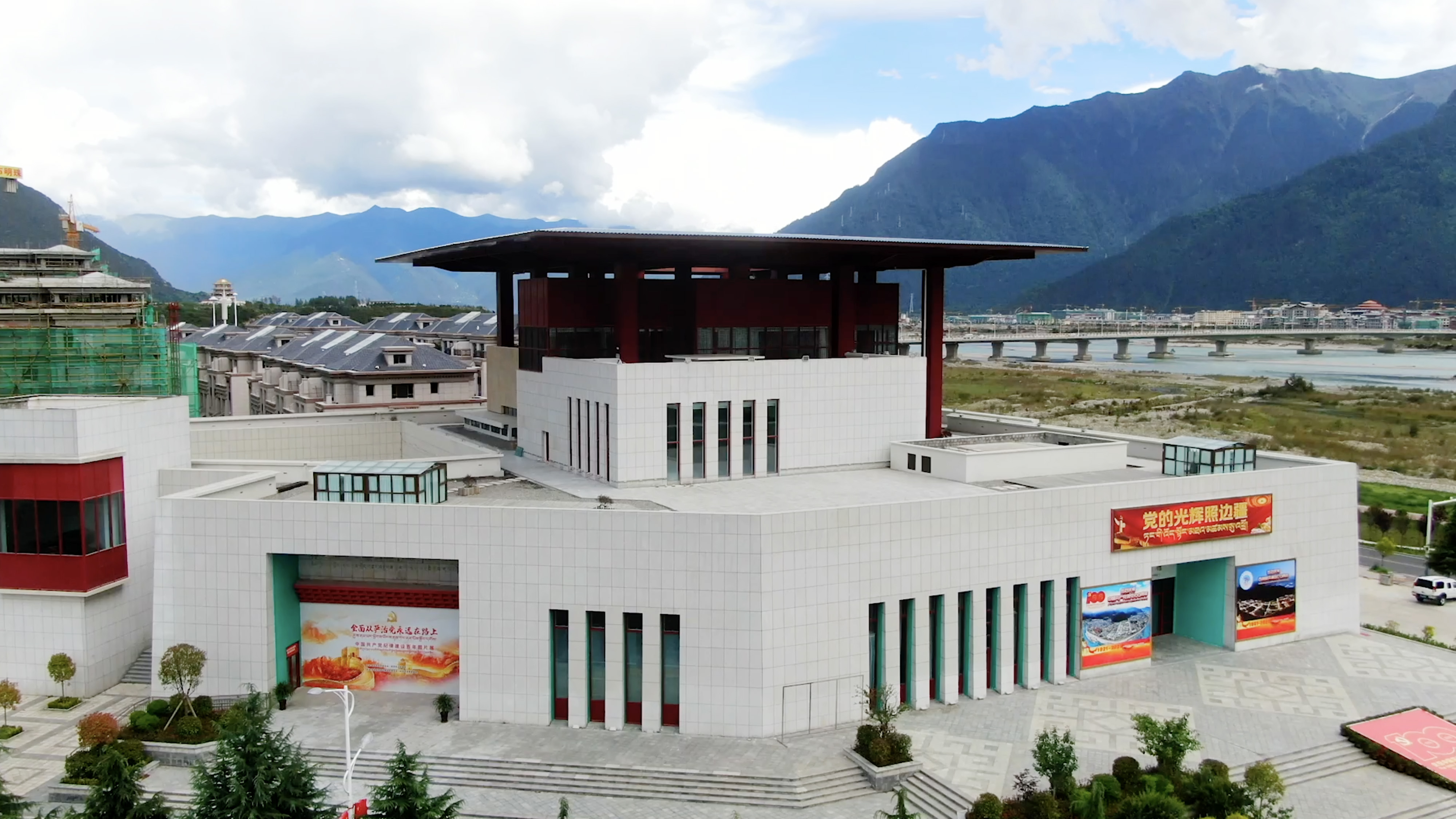 On Thursday, he went to Nyingchi Railway Station and inspected the overall planning of the Sichuan-Tibet Railway and the construction and operation of the Lhasa-Nyingchi section. He then took a train to Lhasa, the capital of Tibet.
In Lhasa, Xi visited the Drepung Monastery, Barkhor Street and Potala Palace square to learn about the work on ethnic and religious affairs, the conservation of the ancient city, and the inheritance and protection of Tibetan culture. He also chatted with residents.
Xi's visit came as Tibet celebrates its 70th anniversary of peaceful liberation.
Peng Liyuan Addresses SCO Forum on Fomen's Education, Poverty Alleviation
Peng Liyuan, the wife of Chinese President Xi Jinping, on Tuesday addressed the Shanghai Cooperation Organization (SCO) forum on women's education and poverty alleviation via video.
Peng, who is also a United Nations Educational, Scientific and Cultural Organization (UNESCO) special envoy for the advancement of girls and women's education, said eliminating poverty and embracing happiness are the common aspirations of all women. By receiving education, knowledge and skills, women can have the power to lift themselves out of poverty.
Thanks to China's unremitting efforts, the country has achieved a victory in the fight against extreme poverty, and hundreds of millions of Chinese women have been lifted out of poverty, she said, adding that China has adopted a series of measures to ensure women's equal access to education and make them beneficiaries, participants and contributors in poverty alleviation.
Peng said reducing poverty through women's education will have a strong impetus if a country attaches great importance to it, social organizations actively support it and people from all walks of life make selfless contributions.
She mentioned how Guizhou's provincial government motivated more than 500,000 women to work at home by developing a women-tailored handcraft industry, how more than 3 million poor girls were able to complete their education under the nationally funded Spring Bud Project, and how a teacher named Zhang Guimei founded a free high school in an impoverished area that helped nearly 2,000 girls enter college.
With 435 million women still living in poverty in the world, the gender gap in education remains clear, Peng said, adding that the COVID-19 pandemic poses new challenges to reducing poverty for women.
Over the past 20 years, since the establishment of the SCO, women from member states have followed the "Shanghai Spirit," exchanged experiences on women's development, promoted cooperation in various fields and contributed their share to advancing SCO cooperation, Peng said.
We need to unite our love and make long-lasting efforts, continue to deepen cooperation in women's education and poverty reduction, let education shine a light of hope on women and make more women enjoy opportunities to live a beautiful life, she said.
The forum is jointly organized by the All-China Women's Federation (ACWF), the Committee of Good-Neighborliness, Friendship and Cooperation of the SCO and the Secretariat of SCO.